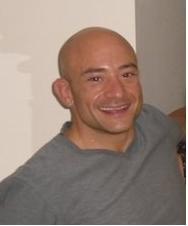 Thank you for visiting my blog!  My name  is Dominic Matteo and I live in the Cleveland Ohio area with my beautiful wife, Kelly and my son, Salvatore.  This blog is about grabbing life by the "bells" and striving to improve yourself and your health every day.  Tipping the scale at about 285 (5'7 if I'm lucky), at over 36% body fat, I decided to do something about it.  Life By The Bells is about striving to improve daily.  Having lost over 100 pounds of fat and immersed myself in health and fitness information and practice, I'm sharing my strategies and secrets. I'm passionate about helping others achieve their goals and true results.  Inside, you will find tips and information about strength training, nutrition, stress management, health, sleep, food, supplements, kids, family recreation and fitness…all sorts of good stuff!
The picture to the left is me today.  I wasn't always this lean.  In fact, I used to be morbidly obese.  I was almost 300lbs, miserable and tired CONSTANTLY.  I was so uncomfortable in my own skin that for a period of time I was ashamed to even have sex with my wife.  CRAZY, RIGHT??!!!
So let's keep this short.  As a kid, fat.  High school, fat. College, "bulking up for football" =fatter.  Post-college, fat then skinny, rinse, repeat.  Then, in May of 2010 the very same day that I found out my wife was going to have a baby boy, I found out one of my best friends died of a pulmonary embolism at 32 years old. I was devastated.  I couldn't believe my friend was gone.  Somewhere in the grieving process something inside of me clicked.  I decided that I couldn't afford NOT to be around for my family.  I decided that I needed to break the cycle of poor health in my family and set a good example for my son.  I would GRAB LIFE BY THE BELLS!
So I did.  I read every piece of literature I could get my hands on about nutrition.  I questioned…everything.  I have always been a science and biology nerd, so relearning health and nutrition by researching and conducting my own "mini experiments" on myself was fun!  I ground out an entire year of P90x…(Tommy Mygrant was my motivation there.  Thank you for the motivation and inspiration  Tommy!).  I wasn't perfect consistently but I was perfectly consistent.  I followed some good advice before I knew it was good advice…
At the end of 5 rounds of p90x and a round of Insanity: The Asylum, I was down 110lbs and VERY lean.  I became a Beachbody coach and started helping others find their way.  I also enrolled at the Institute for Integrative Nutrition (and recently graduated as a Holistic Health Coach).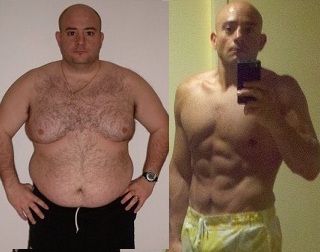 I was lean and stronger, but not STRONG.    I started digging more and reading and learning more about strength training.  I found kettlebells and started fooling around with them again after using them a few years prior in their "early days".  I got certified as an HKC (Hardstyle Kettlebell Certified) Instructor and started helping others to "practice their strength".  I was also invited and became one of the first fifty one people to be certified P90x instructors.  It was a great opportunity and I am thankful for it.  While I may not find p90x to be an ideal program, I can attest personally that it may be the gateway to a person's ultimate arrival of strength and health.
Next was my RKC (Russian Kettlebell Challenge) certification, the original kettlebell certification, and one not to be taken  lightly as many fail to become certified on that weekend.  I passed the course and became an RKC certified instructor under Chief Pavel Tsatsouline.  This is where my passion for strength training woke up and I, once again, buried my nose and started experimenting.  I got MUCH stronger and started to pack on muscle.  
From there I have become a USA weightlifting coach.  I earned my NASM CPT (certified personal trainer) and enrolled in the NASM PES course and the Precision Nutrition Level 1 Coaching course and will be completing those soon.  At this point I began training a wide variety of athletes and people of a wide variety of backgrounds from mommies to grandfathers.
Currently, I am also a candidate for Primal Move instructor and as an SBS via Pavel's Naked Warrior certification.  I have recently become a StrongFirst instructor under Chief Pavel Tsatsouline's new StrongFirst organization.

My passion is still the same although my strategies may change.  People first.  The tools change, but the goal is always about people and helping them reach their goals.
All in all this blog is about life.  We all make mistakes, we all have a lot to learn.  We all need to be strong.  We all need to simply grab Life By The Bells.
~Dominic
"Aut Viam Inveniam Aut Faciam"