Recently when the snow started flying I heard a LOT of complaining from people around me.  Complaints about shoveling, the cold, gas for the snow blower, the snow-blower not working, not being able to go for a walk or run.  Seriously.  So I'm listening to people complain about these things and thinking back to the days I HATED the snow.  As a kid I loved playing in it then as a seriously out of shape adult I hated it.  Why?  Aside from being in Cleveland and having general lack of sunshine, It was pretty much all of the previously mentioned complaints I heard recently from people around me.
What about now?  Today, I LOVE the snow.  What changed?  Well a couple of years ago sitting inside my house being miserable thinking about how bored I was and how much I hated dealing with snowy weather it dawned on me.  GET INVOLVED!  HAVE FUN!  This is typically my solution to get myself and others to do stuff they don't like… give an activity and ownership of it.
So here the 5 reasons I appreciate when it snows:
1.  Exercise (or not) – Winter provides a lot of opportunities to be active.  When I decided to "get involved" with winter as an adult I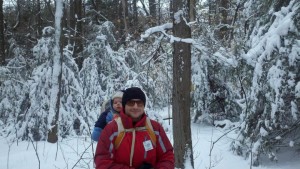 turned to snowshoeing.  Snowshoeing is a GREAT activity that can be done at a relaxing pace as NEPA (non-exercise physical activity) or in a more rigorous fashion for "metabolic conditioning".  Don't believe me?  Climb some steep hills interval style as fast as you can with snowshoes and try not to leave your lunch in the snow for the animals. 🙂  Typically you will find me just about every weekend in a park going for a fast walk with my snowshoes…often with a weighted vest or my son on my back.  I'll discuss the benefits of NEPA in another post.
2.  Clear my head- Being out in the snow hiking, skiing, snowshoeing or whatever usually offers the unusual chance to unplug and be alone with your thoughts.  Often I will go outside and shovel the driveway just because I need to mull something over.  I did this even when I lived in a condo that provided plowing.
3.  Remember what life is like as a kid again – I love when it snows and I get to see kids outside playing and laughing.  Even though I see less and less every year most likely due to video games and movies on demand, they are there.  When I see kids out sledding and playing in the snow it serves as a reminder for me to enjoy what I have and don't forget to have fun.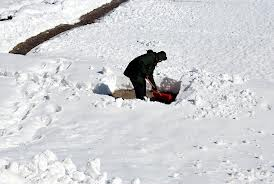 4.  Save gas – Okay, this one may be a bit weak but it's my blog so deal with it.  Stop being lazy and go shovel your driveway.  (see bullet #1) .  I was out shoveling my driveway the other day and the ENTIRE time I was outside the neighbor down the street was trying to start his snow-blower.  The guy finally realized he was out of gas and had to leave to fill up a gas can.  I didn't have to suck fumes, pay for gas or buy a snow-blower and I was done and inside before that guy even started.
5.  NOT BE LIKE EVERYONE ELSE – Ok, so as you get to know me better you will find that most of what I do, think and try is similar to Warren Buffet's investment philosophy of "watch what everyone else is doing and do the exact opposite".  There will be plenty of future posts on that philosophy in all topics.  Seriously though, most people bitch and moan about winter and snow so my immediate remedy is to embrace it and the opportunity it brings.  In the shoveling example I gave, when I was listening to the constant failed start of a snow-blower with no gas while I was clearing my drive with a plow shovel, I felt empowered.  I was getting my driveway done and even cooler, I felt like a man doing it…kinda like Paul Bunyan.
So, next time the snow starts falling or you simply look outside and see snow (sorry to my sun-soaked friends who are missing out) think of these points.  Go outside and do SOMETHING.  You will be glad you did and you will be better for it.